Application Lucerne Festival Academy 2023 – AEC
Dear Fellow Music Lovers,
We are very excited to announce the program and application for the next Lucerne Festival Academy, which will take place from 11th August to 3rd September, 2023.
One focus for the summer of 2023 will be on the work of the German composer Enno Poppe. As composer-in-residence, he will conduct not only his own works but also Mathias Spahlinger's monumental orchestral piece passage/paysage. The arc of the programming in general ranges widely. You will have an opportunity to study works with Susanna Mälkki: namely, Unsuk Chin's Šu for sheng and orchestra and Igor Stravinsky's Le Sacre du printemps. You will also perform the world premieres of new scores by Jessie Cox, David Moliner, and Hovik Sardaryan and prepare Georges Lewis's Minds in Flux under the direction of Ilan Volkov.
There is no fee for active participation in the Lucerne Festival Academy. Travel, accommodation, and meals, as well as scores and instrumental parts, are provided by Lucerne Festival.
You can find all the information in our brand new booklet or on our website.
We kindly ask you to forward this information / document to students, colleagues, and friends who might be interested in our summer program in 2023. Thank you in advance.
We look forward to receiving applications for the Lucerne Festival Academy and the Fritz Gerber Award up until 19 February 2023 (23:59 Swiss Time; CET)!
In the meantime, we wish you all a wonderful festive season, and a happy and successful new year!
All the best,
The Lucerne Festival Contemporary Team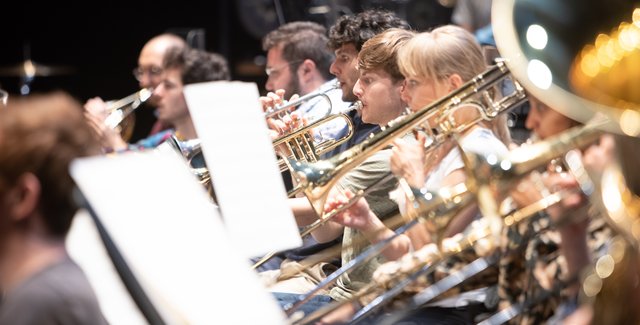 Lucerne Festival Academy
Fritz Gerber Award
For Composers & Conductors
---
INTERNATIONAL PIANO COMPETITON 2023
President and Founder: Tatiana LIONARD


Scarica il pdf qui
---
International Strings & Chamber Music Competition
https://festivaluldearte.com/2022/10/22/international-online-strings-chamber-music-competition/

---
Concertgebouworkest Young • muvac.com
https://www.muvac.com/en/concertgebouworkest-young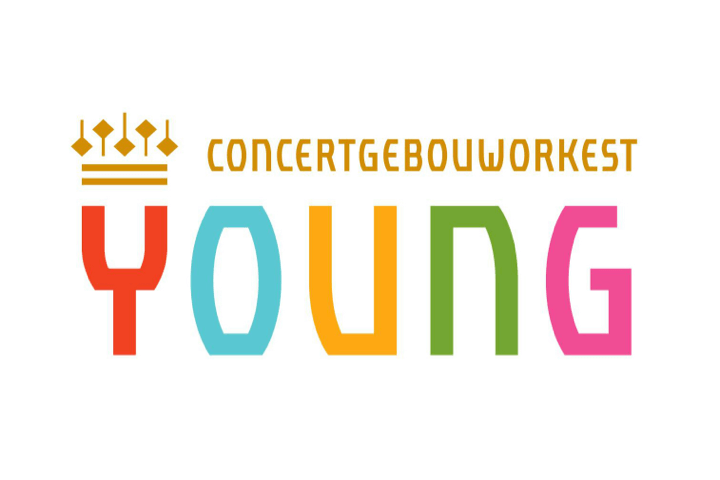 ---
LUCERNE FESTIVAL ACADEMY
Call for Composers & Conductors
Dear Fellow Music Lovers,
We are very excited to be able to share with you application details for many upcoming projects from the Lucerne Festival, in particular next year's programme for composers and conductors as part of the Lucerne Festival Academy, but also a Call for Commissions in collaboration with the Mizmorim Festival of Chamber Music. The application for instrumentalists will open on 1st December, 2022.
We would be very thankful if you could share information about these opportunities with your students, colleagues, and friends. Links for application processes and further details can be found below, and also on our website: lucernefestival.ch/academy.
Apply now!
Wishing you a relaxing Autumn with our best greetings,
Your Lucerne Festival Contemporary Team
For Composers
For Conductors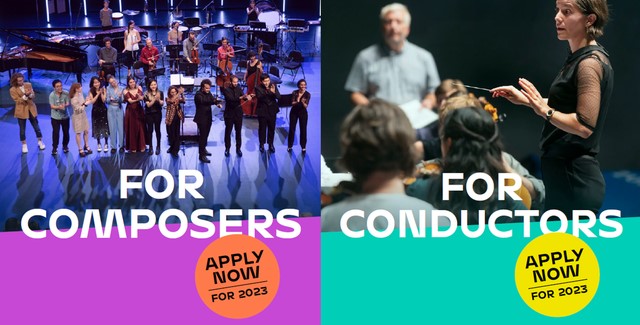 ---
Audition for Intl. Orchestral Academy of the Janáček Philharmonic
Dear all,
for next season we are opening audition to our International Orchestral Academy only in VIOLIN (1), VIOLA (1), VIOLONCELLO (1), DOUBLE BASS (1)
Application deadline is 15th August 2022.
Results will be announced by mail by 20th August 2022.
Requirements – to be sent as live video recording:
orchestral parts (where marked, play only selected bars) as one uncut video – all scores of orchestral parts you can find on:
https://www.dropbox.com/sh/066s9ia94wqm8v0/AAD3GYNMNaBZwPM7tL4oh9LVa?dl=0
b) excerpts from 2 contrast movements from solo composition ad libitum (max 10min)
All information and ONLINE application can be found on https://www.jfo.cz/en/academy/
See also attachement. Thank you for sharing among your students.
Martina Výrková
koordinátor mezinárodní spolupráce | international relations coordinator
Janáčkova filharmonie Ostrava, p. o.
Janáček Philharmonic Ostrava
října 124, 702 00 OSTRAVA
Czech Republic
t. +420 739 372 309
e. vyrkova@jfo.cz
w. www.jfo.cz
---
2022 Petrichor International Music Competition
The second annual Petrichor International Music Competition is now open for submissions. This annual musical performance and composition contest provides support, inspiration, and exposure to instrumentalists and singers from around the world.
https://www.petrichor-records.com/so/c7O0s4Mrs?languageTag=en&cid=3d4408cf-384a-4b9a-9422-73739fd34b4c#/main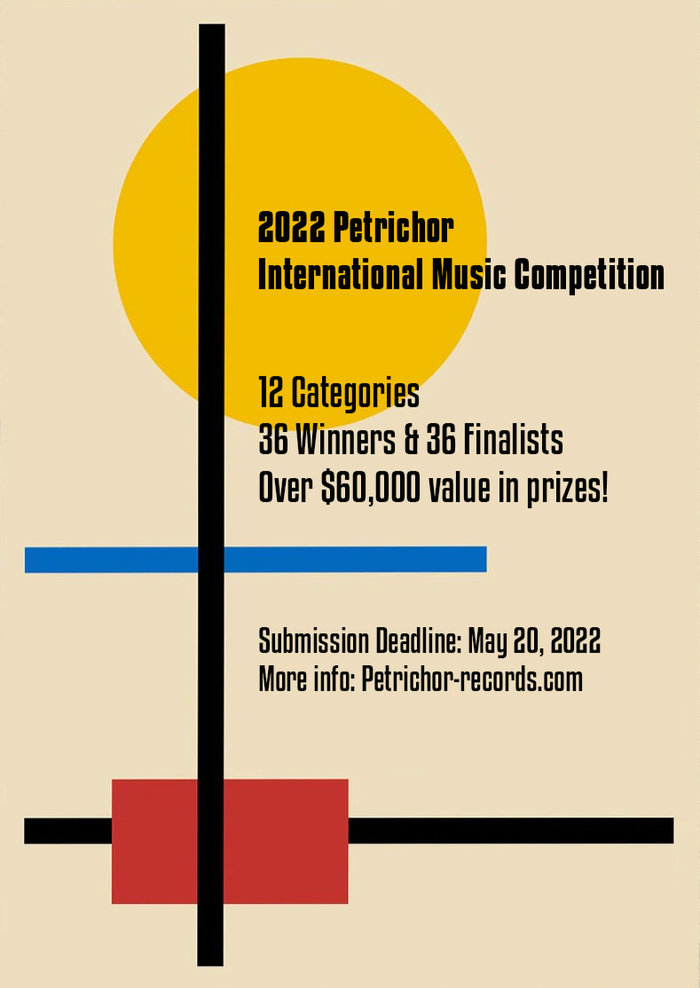 ---
SPEAK LIKE A LOCAL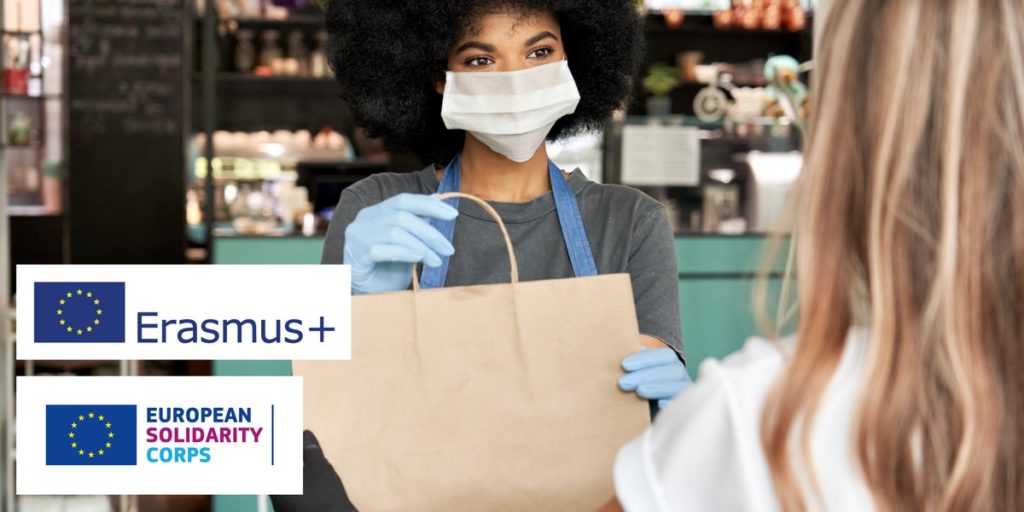 Want to talk with the locals while you're abroad?
With OLS, you can learn the language you will be studying, working or volunteering in AND the official language(s) of your destination country.
All you have to do is choose the language(s) you want to learn when you first complete your mobility details in your profile! No worries if you didn't though! Your preferences can be edited up until you access the language course for the first time.
FURTHER BOOST YOUR LANGUAGE SKILLS AND PARTICIPATE IN OUR MONTHLY OLS CONTEST!
This month, you can win an e-book voucher. To participate in the OLS contest, you need to spend a minimum of 5 hours on the OLS language course platform during the month of April. If you meet this requirement, a final contest question will be sent to you by email.
Just connect to your OLS language course and make the most out of it to be one of the lucky winners!
Don't forget our Massive Open Online Courses (MOOCs)!
Every week you can attend a 30-minute video lesson with a native-speaking tutor on a variety of topics.
Coming up in April:
Job interviews
Describing different countries and regions
I love doing sport and eating chocolate!
Discussing nature and the environment
ALL GOOD THINGS COME TO AN END SOONER OR LATER
The current OLS platform will be closed as of 30th June 2022.
Please download any available documents from your mobility dashboard before this deadline.
But don't worry! OLS will be back with a new format for participants whose mobility goes beyond June 2022. More information is coming soon!
Need help?
Take a look at the OLS technical support page.
Wishing you the best in every language,
The OLS Team
(Online Linguistic Support)
---
Proroga bando "The Exploratory: Venice New Music Course"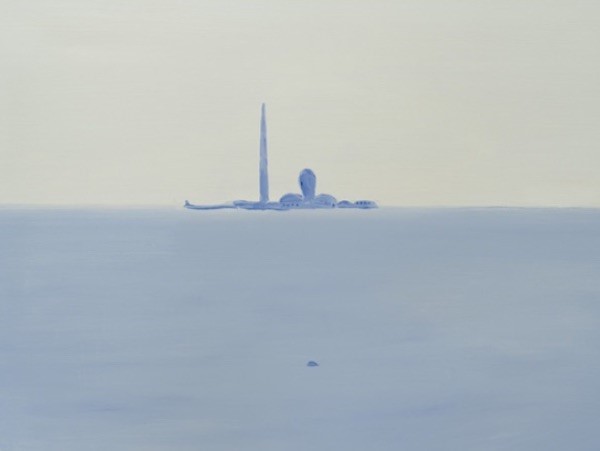 ---
22° Premio Lams Matera – Festival/Contest Internazionale per giovani musicisti
Gentilissimi,
Dopo il grande successo delle ultime edizioni, che hanno richiamato migliaia di concorrenti provenienti da tutta Italia, dall'Europa e dal resto del mondo, il Premio Lams Matera – Festival/Contest internazionale per giovani musicisti (intitolato "Rosa Ponselle" fino al 2018) giunge alla sua ventiduesima edizione e si inserisce nelle numerose iniziative culturali del LAMS, con il patrocinio del Ministero per la Cultura, della Regione Basilicata, del Comune di Matera, della Provincia di Matera.
Il Premio LAMS MATERA si terrà, quest'anno, a scelta dei partecipanti, nelle due modalità:
A) live, a Matera dal 27 al 29 aprile 2022;
B) online, sul canale YouTube del Lams dal 27 al 29 aprile 2022.
Mission del Premio è di promuovere i giovani talenti offrendo loro una occasione unica di confronto e crescita e un sostegno concreto all'avvio delle loro carriere con concerti retribuiti, che andranno ad arricchire il loro processo di crescita umana e professionale.
Anche se la pandemia e la crisi globale conseguente hanno inferto un duro colpo alle attività culturali e musicali, siamo sempre più convinti di ridare ai giovani segnali concreti di speranza per il futuro.
Per qualsiasi informazione, non esitate a contattarci, nelle consuete modalità email (concorso@lamsmatera.it) e facebook (Lams Matera).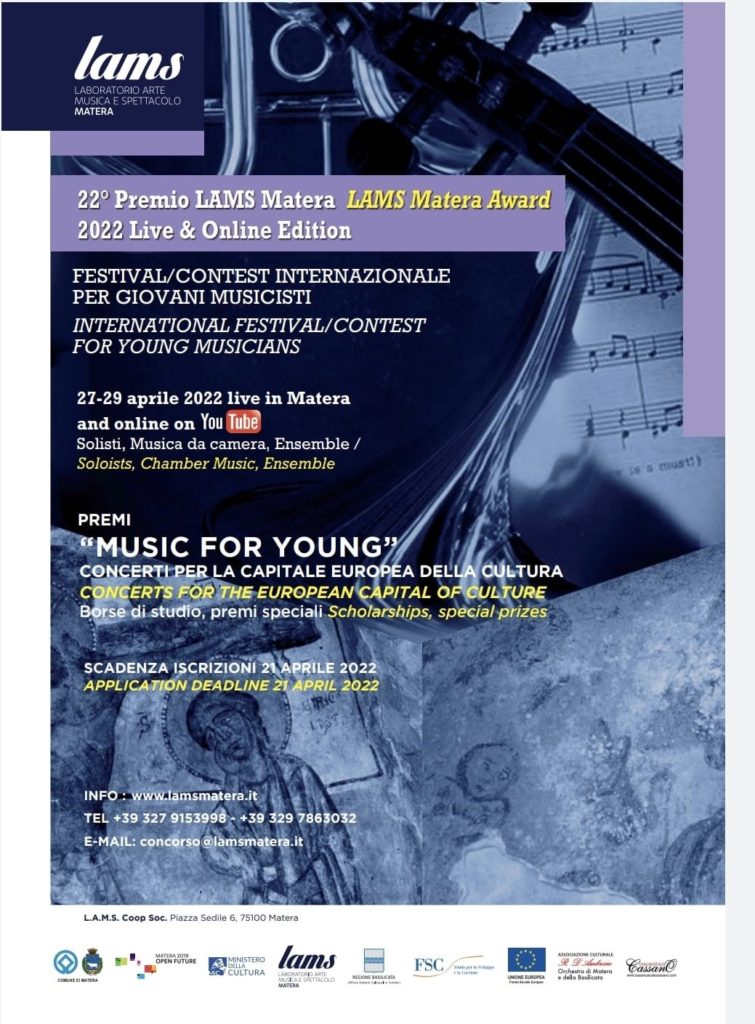 ---